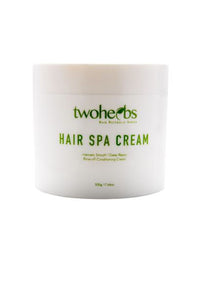 Two Herbs Hair Spa Creme are really important beauty essentials that should be included in daily haircare routine as it helps to keep your hair strong and healthy. Using these creams regularly can help to restore hydration and protein to the hair easily
1.Wash your hair in the shower. Rinse out all shampoo.
2.Apply generous amount of hair spa at the hair ends (usually about 2 palm size).
3.Spread it evenly on the ends of your hair. For long hair, spread it from chin level and down. Don't apply spa creme to your scalp.
4.Run your fingers or a wide-tooth comb through the ends of your hair to work in the conditioner.
5.Let it stay on your hair for a moment,This is typically a few minute
6.You can wrap the hair with a warm towel for better results, the heat aid penetration of the spa creme into the hair
7.Thoroughly rinse off the conditioner.
Advisable to use once a week to nourish the hair ends and prevent tangles and split ends.