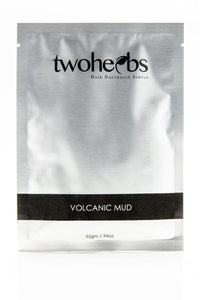 Two Herbs Vocanic Mud Treatment is a award winning 2021 Her World Hair Award Most Wallet-Friendly Treatment For Oily Scalp. 
This treatment mimics the natural mineral found in volcanic mud. It dries up after application to remove the oil sebum that is deeply in the pores. Upon washing, the mask is able to clean away the oil sebum deep inside the pores ensuring a clean and oil free scalp after the treatment
Hectorite is known for its volume and sebum control benefits in hair wherefore it is a common ingredient in Dry-Shampoos.
Kaolin draws impurities out of the skin (grime, dead skin cells), keeping pores clearer. It can also help balance an overly-oily complexion by absorbing excess sebum. Kaolin will remove grime, excess oil, dead skin cells and product buildup, keeping scalp skin and the hair follicles clean.
Ruscus Aculeatus Root Extract  acts on the micro-circulation of the scalp, avoiding congestion in the hair bulb and thus allowing nutrients better access to the root, fortifying it  Ascorbic acid is a potent reducing and antioxidant agent that functions in fighting bacterial infections, in detoxifying reactions.